CALL FOR PAPER




The soon available "Issues management & crisis communication review" is the English language section of the "Magazine de la communication de crise et sensible (MCCS)" edited since 2000 by the "Observatoire International des Crises (OIC - International Crisis Watch)", a non-profit organization based in France.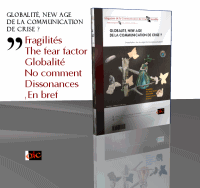 The Magazine de la communication de crise et sensible has one goal: to be the source of the best new ideas for people creating, leading, and transforming issues management & crisis communication. Since its founding in 2000, and step by step, MCCS has win a proud reputation as one of the world's preeminent online management & communication magazine in French language, publishing cutting-edge, authoritative thinking on the key issues facing executives.

Today, we open MCCS to the English language.

The best way to inquire about MCCS's potential interest in a topic is to prepare a proposal. It can be submitted by mail and should answer the following questions:
1. What is the central message of the article you propose to write? What is important, useful, new, or counterintuitive about your idea? Why do managers need to know about it?
2. How can your idea be applied in communication today (the "so what")?
3. For which kinds of companies would the idea NOT work well? For which kinds of companies would it work especially well? Why?
4. What research have you conducted to support the argument in your article?
5. On what previous work (either of your own or of others) does this idea build?
6. What is the source of your authority? What academic, professional, or personal experience will you draw on?
It need not be long and it certainly need not be written in question-and-answer format. The important point is to cover the topics the questions raise.
Please e-mail your proposal to info@communication-sensible.com

Google news and MCCS
MCCS deeply appreciates the time and energy required to prepare a proposal for our publication, and we are grateful to you for that investment. We are always looking for new sources of solid, useful ideas that can improve the practice of management.
Thank you for your interest, and your futur papers.

Didier Heiderich, Managing Editor